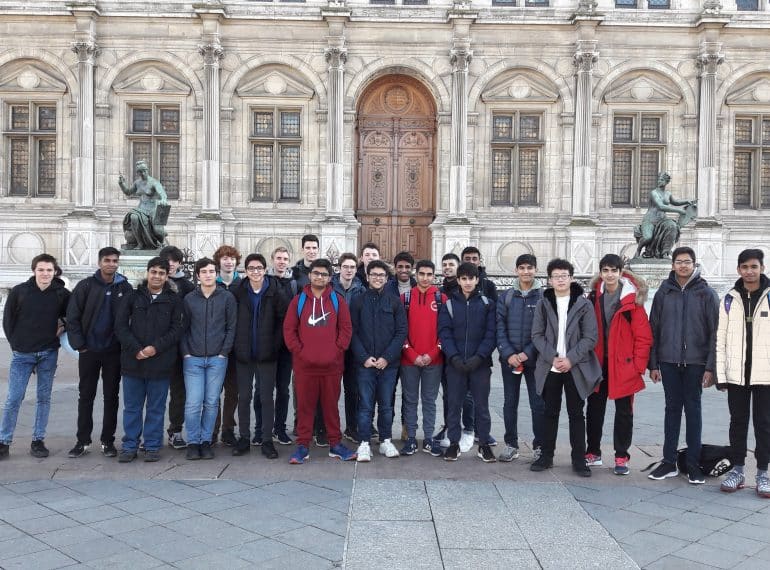 A-level French students had plenty of opportunity to practise their skills in the language on a trip to Paris that also gave them a grounding in the culture while taking in all the sights.
They saw the Eiffel Tower, the Arc de Triomphe, the Champs Elysees and the Louvre, as well as visiting attractions specially selected to correspond to their interests in French cuisine, sport and politics.
Head of Languages Nora Schlatte said: "Each day, the students enjoyed guided visits by native speakers, requiring them to understand and ask questions in French: they coped extremely well with this high level of challenge. Indeed, many guides commented on the impressive level of competency shown by the boys."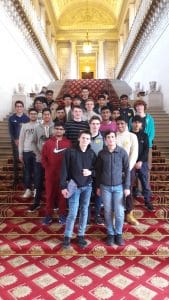 The Languages department runs a trip to the French capital every two years, ensuring that all boys can go to Paris at least once during their French A-level studies.
For this visit, undertaken shortly before coronavirus restrictions were introduced, 23 Year 12 and Year 13 pupils headed off on the Eurostar along with three staff: Ms Schlatte; French teacher Gillian Ross, who organised the trip, and David Ryan, Deputy Head.
The party stayed in the Louis Blanc hotel near the Gare du Nord and conveniently situated opposite a Métro station, enabling the boys to reach the sights easily.
A particular highlight was a visit to the Senate (Sénat) at the Palais de Luxembourg, the French equivalent of the House of Lords, where students were shown the impressive gold interiors of the staterooms designed by the famous Marie de' Medici, a 16th and 17th-century queen of France and patron of the arts. The boys were given access to the main debating chamber, known as the Hemisphere, and were informed about the French system of government.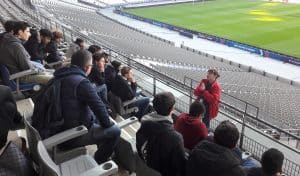 There was also a tour of the Stade de France, where the students were given access to the dressing rooms decorated for the Six Nations rugby tournament and enjoyed the opportunity to see strips belonging to several French football and rugby sporting heroes.
The sixth-formers were also taken round the vibrant Aligre market, where they learned about the importance of food and drink in French culture and how markets are still hugely popular with consumers.
They were particularly impressed with the range of produce available and enjoyed tasting the cheese and charcuterie, explained Ms Schlatte.
"It was great to give students the opportunity to use their excellent levels of French to interact with issues they are interested in," she concluded.