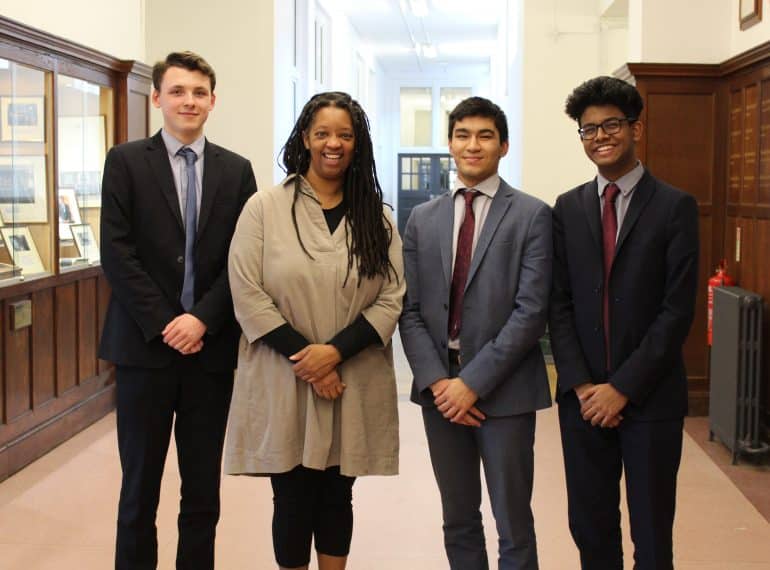 The guest speaker at the Year 12 Luncheon was Sonita Alleyne OBE, who in October 2019 became the first black Master of an Oxbridge College.
On taking up the role at Jesus College, Cambridge, she also became the first woman to lead the college in its 524-year history. QE is the first school she has visited since becoming Master.
After the luncheon she met with Year 13's Bhiramah Rammanohar, Reza Sair and Drew Sellis, who all hold offers for Jesus College. The trio are among 40 QE Oxbridge offers this year – a School record.
Headmaster Neil Enright said: "This luncheon is the first event for Year 12 at which they can gain experience of the type of formal social occasions that they will encounter at university and in their professional lives. Sonita gave a terrific and inspiring address that was perfectly adapted to the occasion. Boys will certainly have gone away with a greater awareness of what life at Cambridge is like and of the exciting intellectual and personal development opportunities available.
"During her speech, she spoke of how the very experience of applying for, and then studying at, a university such as Cambridge, brings together people of different backgrounds, giving them that experience in common.
"This will have resonated with many of the sixth-formers present, since QE provides a state school pathway for boys from very different backgrounds (many of them the first in their family to enter higher education at all) with the opportunity to go to some of the world's leading universities."
The luncheon featured the customary toasts, led by School Captain Ivin Jose, who fulfilled an MC role. Grace was said by Guy Flint, Senior Vice-Captain, and the vote of thanks given by his fellow Senior Vice-Captain, George Raynor.
Sonita Alleyne was born in Bridgetown, Barbados, and brought up in Leytonstone, East London. She attended a comprehensive school before going to Fitzwilliam College in Cambridge, where she read Philosophy. A career in radio followed, and she founded production company Somethin' Else, which she led as Chief Executive from 1991 until 2009. She is a Fellow both of the Royal Society for the encouragement of Arts and of the Radio Academy (FRA).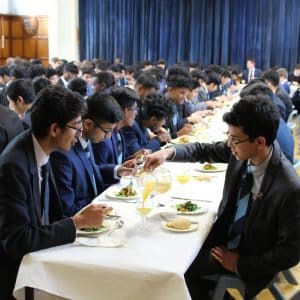 She began her speech to the sixth-formers with a word on examinations: "Exams can't tell the world how funny you are, or how kind, or how much you love manga or wine…" But what they are, she said, is a metric that the world uses to judge success, and so for that reason they do have some importance.
One of her key pieces of advice was about keeping options open: "In life, you need to keep doors open for yourself," she advised. The difficulty was in knowing which doors they should be. Other people would not always open doors for them, so the boys needed to be active in this regard.
For her, one such door had been Cambridge itself. In her letter to Jesus College in relation to becoming Master, she wrote: "I left Cambridge over 30 years ago, but it never left me."
As an undergraduate, she had a real interest in artificial intelligence, so, she told the boys, she had planned to read Computer Science after an initial year of Philosophy (joint courses being more common at that time), but ended up studying Philosophy alone throughout.
She recalled that to help sixth-formers prepare for the university application process, her secondary school had just made them talk – about ideas, news, science, indeed about anything. She found she relished this and thus greatly enjoyed the Cambridge interview process and the intellectual stimulation it brought. Not only did she find the discussions "challenging in a way that GCSEs weren't", but they helped provide her with a sense of belonging.
Once at Cambridge, she threw herself into many enriching activities which she had not had the time or opportunity to follow at school, including Music, singing, theatre and student politics. She was even secretary of the college Mystical Science Club. ("There were only two of us!")
She noted, however, that it was the informal shared conversations around college – and outside of these activities – that most helped her develop deep friendships and formulate her views: "[That was] where I discovered my sense of agency." She graduated as a "free-thinking" person – a recurring phrase during her address.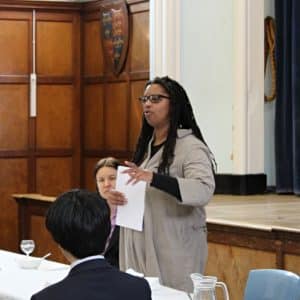 After university, she had a series of jobs ("a zig-zag career"). "Don't stress about finding a career for life, or knowing what you want to do when you graduate…take things one step at a time," she counselled, adding that she is still taking her career one step a time.
Setting up Somethin' Else at the age of 24 was, though, a watershed moment for her, she said. Today, she enjoys running her business, her media work, and her regeneration work as part of the London Olympic Development Corporation.
She also now takes great satisfaction from supporting other people in getting through challenges or making progress in their lives: "I am always proud to say that I help people."
Her final advice to the boys was to be free-thinking, to challenge themselves, to "push open a few doors and to follow your ideas, because they matter".
In a question-and-answer session following her talk, she was asked about her views on lowering grade offers for students from the state sector or disadvantaged backgrounds. "Cambridge should be a bastion of excellence, not of élitism," she replied, but said she feels that the systematic dropping of grades does not work.
Her preference was to encourage more people to apply ("It's one of five options and costs no more than any other university – what have you got to lose?") and to improve access that way. Bright students such as those from QE neither want nor need entrance requirements to be lowered. "If you get the grades, you belong," she said, adding that it is important to debunk a sense that people from certain backgrounds might not fit in. "My job as Master is about community – and it's the best job in the world."