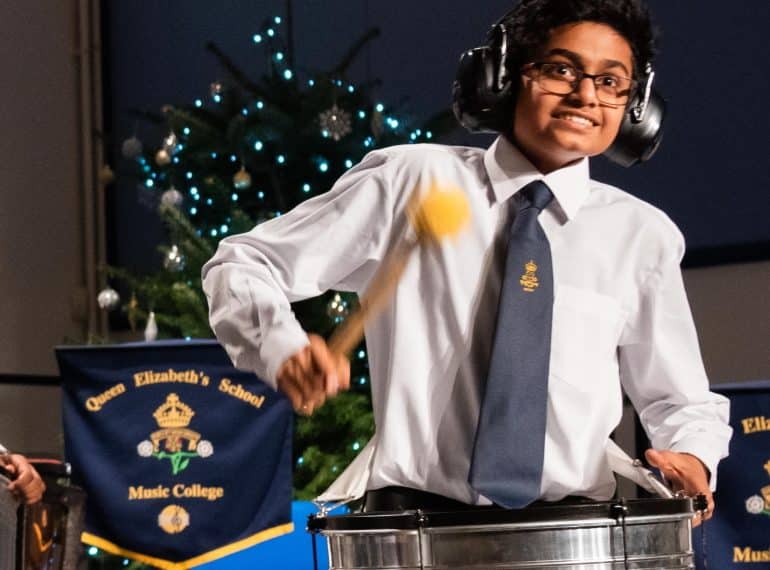 QE's new Samba Band brought some hot Latin rhythms to a bleak winter's night in Barnet at the School's Christmas Concert.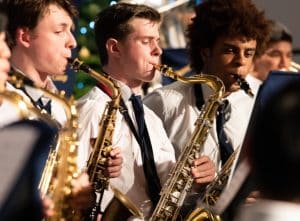 The annual charity fund-raising event held in association with the Rotary Club of Barnet featured works by Mozart, Dvořák, Rachmaninov and Offenbach, as well as film themes, classical Indian music and some well-known carols, for which audience participation was definitely encouraged!
With 14 different ensembles taking centre-stage in the Shearly Hall during the course of the evening, the concert involved contributions from hundreds of boys and many staff.
Headmaster Neil Enright said: "This was an excellent concert, with great variety in terms of genres and styles, and a high standard of performance throughout. My congratulations go to all those involved in putting on a very good evening's festive entertainment."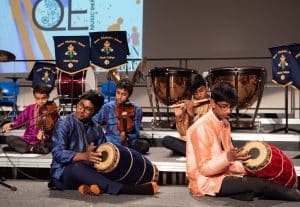 VIP guests included the Mayor of the London Borough of Barnet, Cllr Caroline Stock, and her husband, Old Elizabethan Dr Richard Stock, and Colin Luke, President of the Rotary Club of Barnet, which is celebrating its 90th anniversary this year.
After the String Quartet entertained the audience as they took their seats, the programme proper began with three pieces by the Symphonic Winds, who were directed by QE's new Director of Music, Ruth Partington.
The Celli played an arrangement of English composer and organist Herbert Howell's carol, A Spotless Rose.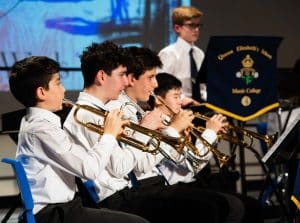 The audience were then transported to two different continents, first with the Samba Band's début appearance and then with the Senior Indian Ensemble performing Valachi Vachi.
The Chamber Choir sang both Arvo Pärt's and Rachmaninov's versions of Bŏgŏroditsye Dyevo, before the Jazz Band brought the first half romping to an end with the Hawaii Five-o Theme and I wan'na be like you, from Disney's Jungle Book.
After the interval, the Barbershop group performed three songs, finishing with Irving Berlin's White Christmas.
The highly varied nature of the repertoire continued, with the Camerata playing two works by Mozart, followed by pieces by the Sax Ensemble which included Destiny's Child's Eight Days of Christmas, and then by a Lennon and McCartney medley from the School Choir's tenors and basses.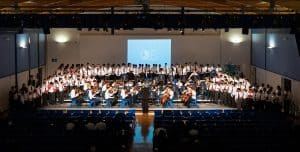 As the concert drew towards a close, the whole School Choir sang the popular Carol of the Bells, composed in 1919. The Symphony Orchestra then took on Offenbach's Overture to Orpheus in the Underworld, Dvořák's Slavonic Dance No. 8 and Leroy Anderson's A Christmas Festival.
Bringing the evening to a rousing end, the massed ranks of the Symphony Orchestra and School Choir led the audience in singing Once in Royal David's City and Hark the Herald Angels Sing.