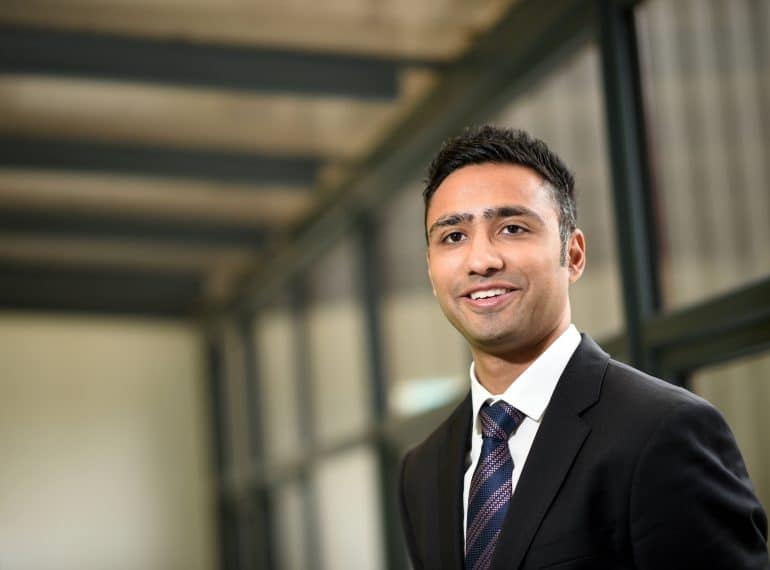 Surgeon and former School Captain Ash Kalraiya is one of only 11 Fellows appointed for 2020 to the prestigious NHS Innovation Accelerator. The honour recognises his work as founder and CEO of MediShout – a company dedicated to helping hospitals solve their logistics problems.
While celebrating news of the fellowship, Ash (OE 1997-2004; School Captain 2003) has in recent weeks turned MediShout's attention towards helping to meet the huge challenge posed to the NHS by the Coronavirus pandemic.
"We have currently adapted our platform so hospitals and GP practices can report all Covid-19-related issues, such as not enough PPE [Personal Protective Equipment], a need for more stock or equipment and issues with new patterns of working.
"We just had 150 GP practices ask to sign up and several NHS Trusts, so it's super-busy as you can imagine! However, we've managed to improve things for hospitals using our technology so far, which is nice to know."
After leaving QE, Ash read Medicine at Imperial College London from 2004-2010, also completing a BSc in Management at Imperial as part of his studies.
Currently an Orthopaedic Registrar with NHS North West London, Ash says: "I've worked in the NHS over the past decade, and during that time realised my biggest frustrations were when logistical issues (like missing stock, or broken equipment, printers not working etc) delayed me every day and meant I had less time to spend with patients."
MediShout's website recounts that a particular turning point for Ash came when several of his operations had to be cancelled one morning because a lightbulb in theatre was broken. Even more frustratingly, several members of staff had known of the problem, but not reported it.
"The NHS has actually seen a 32% increase in cancelled operations due to equipment issues, so it's a huge, neglected problem," he says. "So, I created a solution called MediShout: an app for staff to instantly report such issues to the person or team who creates change."
The MediShout app and platform uses cloud-based technology to connect people, helpdesks, smartphones, tablets, IT systems and RFID tagging. NHS staff use the app to make instantaneous reports of any logistical issue that threatens to hamper them in their work, and the system's algorithms then ensure this information gets to the right people.
Furthermore, the combination of big data and artificial intelligence means that Medishout can "predict problems before they even happen," Ash adds, thus driving long-term improvements, in addition to identifying the issues most affecting patient care so that these can be fixed first.
The NHS Innovation Accelerator (NIA), now in its fifth year, is an NHS England initiative delivered in partnership with England's 15 Academic Health Science Networks (AHSNs). It recognises and supports those offering high-impact solutions supporting the priority areas for the NHS in England, as set out in the NHS Long Term Plan.
The NIA's recognition, which is both for him as a Fellow and for MediShout, follows several years' hard work in building up the business. "We started to get some traction with quite a few hospitals, so got accepted to the quite competitive NHS Innovation Accelerator. It is a huge honour to be accepted as one of the Fellows," he says.
The NIA's rigorous selection process includes review by over 100 clinical, patient and commercial assessors, an informal review by the National Institute for Health and Care Excellence (NICE), interviews, and due diligence.
Concerned about the impact that the cancellation of this year's A-level examinations might have on current QE boys, Ash has been in touch with the School to offer them his encouragement.
"Journeys to success are long, usually a lifetime. So, A-levels are a stepping stone, not the final destination," he points out, adding that not having the desired A-level grades on their CV will not stop boys from fulfilling their big ambitions in life. "It's ok not to succeed every time. It took me five years to get into the QE rugby A team. I failed my first-year exams at medical school. I failed both my surgical exams first time. I'm pretty happy with my journey, as failing and learning is what pushed me to keep going!"
Ash keeps in close touch with old QE friends. "My funniest and most active WhatsApp group is with friends from my year – Joe Besser, Mat Houghton, Anil Haldar, Ed Hughes, Gideon Adler, and Deepon Sen Gupta (he didn't actually go to QE, but most people assumed he did!).
"Joe is in Australia and visiting him in 2015 is when I met my now wife, Sonal Lodhia, who moved to London. It's a funny old world but I can indirectly thank him, that I'm being well fed during this Covid-19 lockdown!"