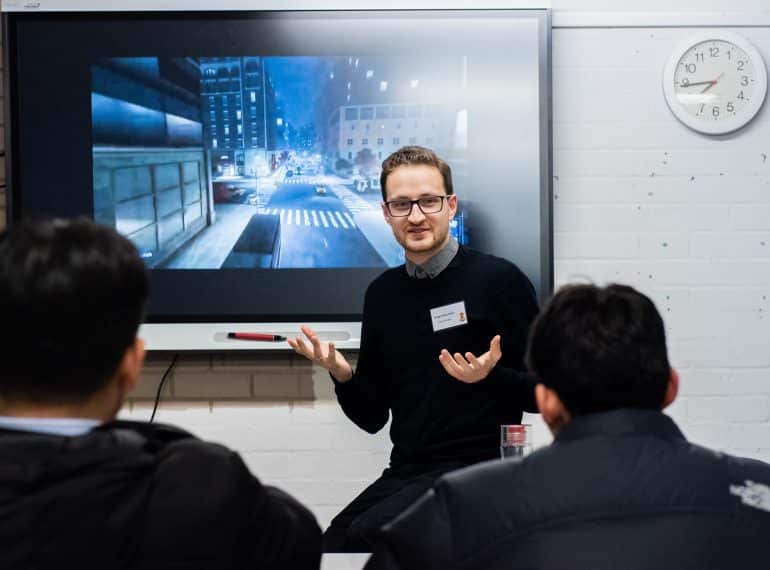 Countless hours spent jamming with friends in the Music block at QE sowed the seeds of Sergio Ronchetti's career as a composer and sound designer for video games and films.
Returning to the School to deliver a careers lecture to Senior School pupils, Sergio (OE 2004–2011) recalled that when he decided to go into music instead of taking a place at university, everyone around him said he was making a mistake.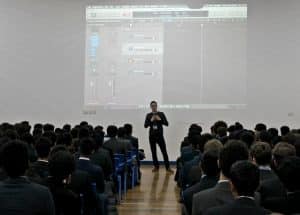 But, he told the boys, he had no regrets about his chosen path, since it had put him in control of what he was doing. He loves practising music six-to-eight hours a day as he finds it therapeutic and it gives him direction. He had been true to himself, his career giving him opportunities to learn from, helping him to mature and making him happy. "It's more about the journey, rather than the end game. Every day I get a little bit better at something, I progress.
"Give yourself time to make decisions – meditate and do something productive," he advised the boys gathered in the Shearly Hall. "If you don't know what to do for a career, take a year out, work, take a course. There's no rush!" Just as in rugby, you must actually take steps forward in order to achieve your career goals, particularly if those goals are ambitious, he said.
Sergio spent the first four years after leaving QE as a professional musician, culminating in the release of a full-length album. During this time, he achieved several accolades, including an artist endorsement from ESP Guitars and Laney Amplification, while also performing at major festivals and at sold-out shows in both UK and mainland Europe.
He did eventually go to university – but in his own time and as the next logical step in his career plan. Although he came from a rock background (influenced by his uncle's heavy metal collection), he decided to eschew a possible future in a touring band playing guitar, because he "wanted to be a part of something bigger". He loves the indie game scene and says his ambitions include working on "the biggest video game in history". Asked what his ten-year goals were, Sergio staed: "I would like to score a couple of good jobs in film – possibly become head of a music production department".
Thus, in 2016, in order to facilitate this burgeoning ambition to become a film and game composer, he went to Goldsmiths, University of London, to study Music, from where he graduated with a First.
Today, Sergio works as a freelancer, describing himself on his own website as a 'composer/sound designer'. His recent work on the indie game Eldest Souls was showcased at E3 Los Angeles, the premier trade event for the video industry.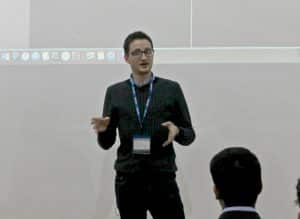 He is a regular supporter of the School and gave a presentation on sound design in video games at last year's Year 11 Careers Convention.
Headmaster Neil Enright said: "Sergio's story is a very interesting one – through a combination of determination and talent, he is successfully forging a career in a highly competitive industry. Of course, unlike him, a very large majority of our boys do go on to university immediately on leaving the School or after a gap year, but we are keen to make sure that pupils are fully informed about all the different options available to them so that they can make the choices that are best for them."
Sergio advised any boys interested in following in his footsteps not to rely on making money from such a career in the beginning. "Freelance work takes a while to build up. Do it as a hobby first. You don't have to spend a lot of money, either; you can use your laptop or iPhone."
Sergio was happy to dispense a little technical advice – he suggests Logic or Ableton software for music production, using Logic himself, while Pro Tools is good for film-editing.
Asked about the skills required for a career similar to his, Sergio urged the boys to be open to possibilities and to be prepared. "If someone comes to you and says 'are you ready to mix this album?' you need to take the challenge." He does not believe in luck: "It's all about work ethic and discipline."
There were also questions about the UK grime & rap industry and whether it incites violence. Sergio said he believed not; artists were merely expressing the violence going on around them. He added, however: "As a musician you do have a level of responsibility and need to be aware of what messages you're spreading."