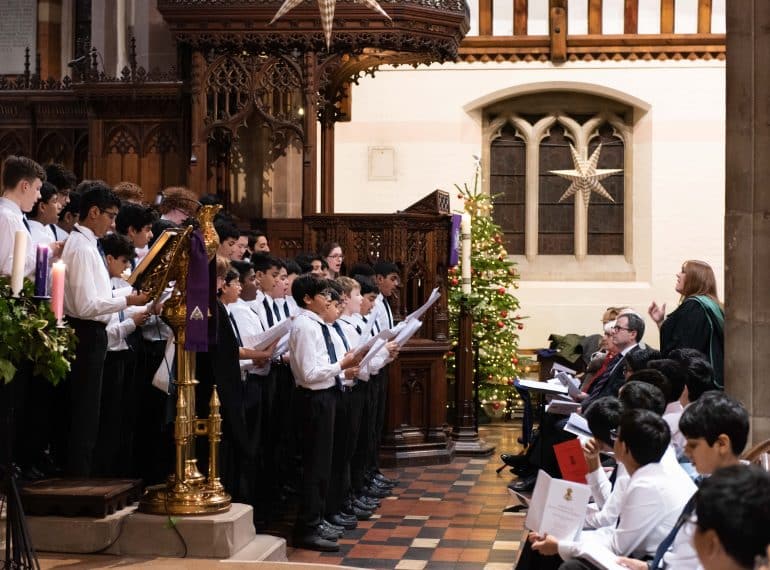 Festive traditions taking in church, charity and Christmas lunch helped bring the Autumn Term to a suitably seasonal end.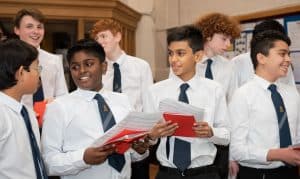 The Service of Nine Lessons & Carols at Chipping Barnet Parish featured Christmas music spanning the centuries. Boys and staff raised money for local charities seeking to help the disadvantaged. And the penultimate day of term brought the ever-popular full Christmas lunch in the Dining Hall.
Headmaster Neil Enright said: "We had a busy, enjoyable end to the term, with boys also taking time among all the festivities to remember those less fortunate than themselves. As we begin the holidays, I extend my very best wishes to all for Christmas and the New Year."
At the Carol Service, the congregational singing began with Once in royal David's city and ended with Hark! The herald angels sing. Interspersed were musical offerings from the Chamber Choir and the School Choir, including their respective renditions of the modern A Child is born in Bethlehem by Malcolm Archer and John Rutter's Christmas Lullaby, as well as an introit by 16th-century Renaissance composer Palestrina, performed by the Chamber Choir.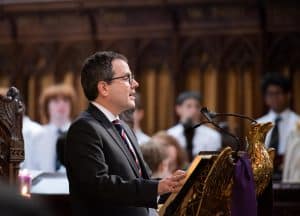 The 'nine lessons' (Bible readings) were read by a boy from each year, including School Captain Aashish Khimasia, and by staff, culminating in the Headmaster's traditional Christmas contribution from the opening chapter of St John's Gospel.
The service was preceded by a short reception for staff past and present, and for governors, members of The Friends of Queen Elizabeth's and alumni. The reception was held close to the parish church in Tudor Hall, Wood Street, the historic home of the School until it moved to its present location in 1932.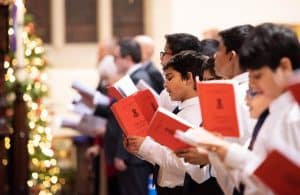 While charity work takes place throughout the year at QE, a special effort is made at Christmas, the traditional season of goodwill. This year, there was a collection for the local food bank and for a local homelessness charity. Boys and members of staff contributed over a week-long period, and a large volume of donations was made.
These charity efforts were organised by Head of Extra-Curricular Enrichment, Rebecca Grundy, with the assistance of prefects.
In addition, in line with recent QE tradition, boys from the School Choir went out carol-singing in aid of Cherry Lodge Cancer Care in Barnet.