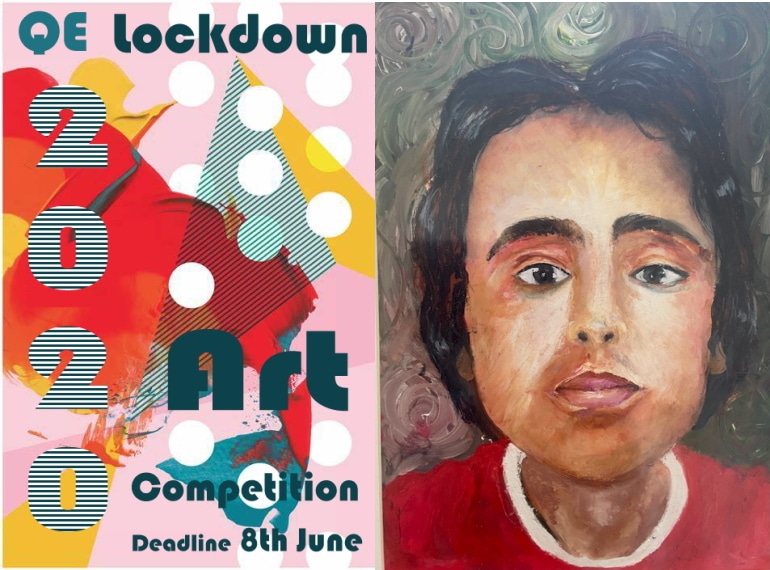 QE's Lockdown Art Competition attracted more than 100 entries from pupils of all ages, with Year 7 boy Joshua Wilkinson's self-portrait taking first prize.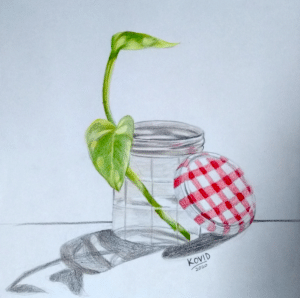 The entries came in a wide range of media, from oil paint to digitally manipulated images, and the boys' artworks featured a similarly broad choice of subjects, from still lives to dreamscapes.
In addition to the current online exhibition on the School's eQE platform, QE will be looking at ways of displaying the winning artworks around the School. They will also be reproduced in the pupil-produced magazine, The Arabella.
Head of Art Stephen Buckeridge said: "We were really impressed, both with the scale of the response and with the quality of the entries, which included a great deal of diverse, creative and thoughtful work."
The competition categories included: animal; portrait/figure; landscape/cityscape/seascape; still life/botanical; abstract/non-representational and scenes of everyday life.
Boys were asked to create two-dimensional artworks in any medium and submit an image electronically. The entries featured pencil, watercolour, oil paint, felt-tip, fine liners, pastel and collage, as well as photography and digitally manipulated images.
Joshua's self-portrait [pictured top, with the competition poster] was the first he had done using oil paints and was based on a photo taken on a smartphone. It took him seven hours over the course of three weeks. "I tried to capture likeness, while also using rough paint strokes and layering to make the painting look less realistic. For the background, I took inspiration from Vincent van Gogh, using his signature style."
Art teacher Jeanne Nicodemus praised the "presence and concentration" shown by Joshua in and through his artwork. "I also enjoyed the texture and handling of the painting. I could see his enjoyment of the material, with delicate gradient details to the expressive swirls in the background."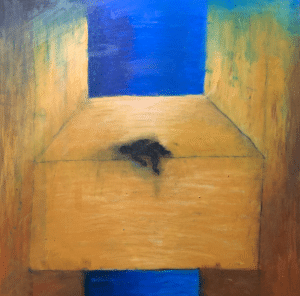 The runners-up were Kovid Gothi, of Year 8, and Kai Pentecost, of Year 12, whose entries are shown right above and left respectively.
Kovid explained what he had set out to achieve: ""I wanted to capture the bright tones of the leaf and metallic lid against the smooth glass."
Ms Nicodemus said: "Kovid's classical still life with its observed detail…enables you to appreciate the changes in light and shadow with his impressive handling of coloured pencil. To me, the white background conveys a purity and lightness with a silent stillness and focused contemplation."
Kai produced his artwork – oil pastel on a wooden board – as part of his work for the Royal Academy's attRAct scheme, which is a year-long programme of practical workshops, tutorials, studio visits and exhibition tours. Every year, two QE Year 12 Art students apply for a place, and Kai was successful this year.
Kai explained that the artwork reflects his dreams, which are frequently dystopian in nature and in which, since "the isolation of lockdown", he has felt "the serenity of being alone but the frustration of wanting to get out".
"Kai's imaginative interior, exterior composition to me is full of feeling in a surreal, dream-like, emotive composition," said Ms Nicodemus.
The category winners (with some comments from Ms Nicodemus) were:
Portrait/figure – Bhav Rambhiya, of Year 12, for his pencil drawing entitled INSPIRATION
Land/city/seascape – Anik Singh, of Year 7, for a watercolour, Staring into space: "I can almost feel the rain on my face"
Still life/botanical – Artem Apostoli, of Year 9, for an untitled black & white photograph
Natural Form – Kailun Zhou, of Year 8, whose artwork entitled Glamour World was created using colouring pencils, pencil and fine liners: "almost a whole story compacted into a final image"
Abstract/non-representational – Vignesh Rajiv, of Year 9, for a pencil drawing, Geometric symmetry: "like a kaleidoscope of patterns, textures and three-dimensional shapes"
Everyday life – Venthan Kumanan, of Year 9, for his pencil drawing entitled Living Life: "an impressive use of manga-style drawing, conveying a momentary sense of helpless frustration, isolation and rage".