Tackling topics as diverse as privacy laws, genome-editing and social equality, 50 sixth-formers from QE and North London Collegiate School enjoyed ample opportunity to air and develop their views in a joint academic symposium.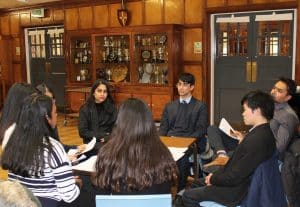 The event, hosted by QE, is an important means of helping final-year pupils with their applications to university, said organiser Nisha Mayer, who is QE's Head of Pupil Enrichment.
"All these students expect to be interviewed in the coming weeks for places in Medicine, Science, Engineering, Law, PPE [Oxford's Philosophy, Politics and Economics course] and Economics," said Mrs Mayer. "This annual academic symposium collaboration with NLCS is invaluable in this preparation."
QE's Assistant Head (Pupil Development) Crispin Bonham-Carter fired up the participants with a rousing welcoming address: "I reminded them that 'symposia' were ancient Greek dining parties where young adults were expected to debate important ideas and subject themselves to scrutiny.
"I also pointed out that the Greek word for debate, 'agon', gives us both 'agony' but also 'protagonist' – and I urged on them the importance of performance when stepping into the role of the 'public expert'."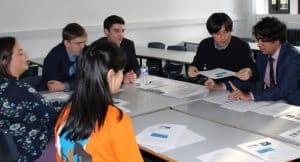 Mr Bonham-Carter added that the symposium participants should not be afraid to ask if they had any questions, "as it was unlikely they would be alone".
Reflecting on a successful event afterwards, Mrs Mayer said: "The students were highly engaged and articulate, the discussions constructive and purposeful."
QE pupils engage in a number of such symposia throughout the year, aimed at different year groups, all with the aim of encouraging independent thinking. Headmaster Neil Enright highlighted their importance when he was invited recently to give a speech on scholarship to the Girls' Schools Association's Annual Conference for Heads.
"Discussion and collaboration are key features of our partnership work with other schools," he told the independent school heads assembled in Bristol. "These sessions have obviously played an important role in enabling our young men to engage with equally capable, and often more confident, young women, but also in furthering academic curiosity.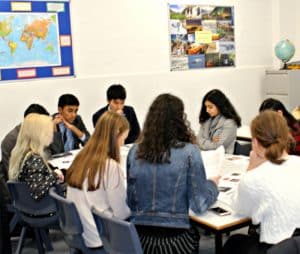 "Of course, the stimulation of the source material is challenging in its own right, whether it is developing critical listening skills from studying Prokofiev and Tchaikovsky with Year 7, enabling Year 9 students to evaluate philosophical arguments, or challenging our sixth-formers to consider the nexus between water and community in a geographical study.
"Another key scholarly benefit lies in the socialisation that they encourage and develop – the ability to argue and deliberate with fellow students; to work together collaboratively towards conclusions; or simply to experience the cut and thrust of academic debate."
Thirdly, academic symposia also develop action and responsibility, enabling participants to become those who can exercise choices according to their own values, and are not therefore "confined by the curriculum, or timetables, or teachers, or examiners", Mr Enright added.
He concluded the section of his speech on symposia with these words: "We are all well acquainted with extra-curricular interaction with other schools – on the sports field, perhaps in the performing arts or academic competitions, but these collaborative academic interactions seem to work as a catalyst for inspiring further academic enquiry."