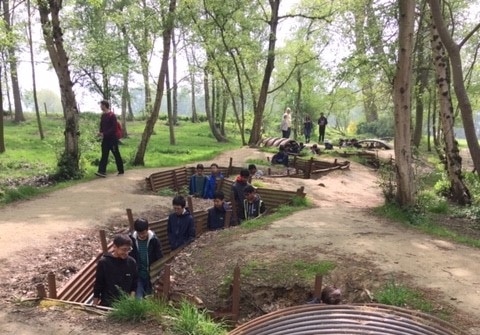 This year's trip to key European battlefield sites contained a special addition – a detour to Versailles, where the eponymous treaty setting out reparations after the end of the First World War was signed in 1919.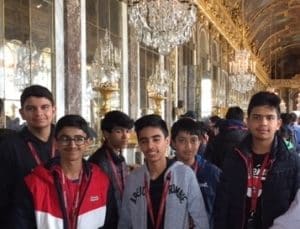 Head of History Helen MacGregor said the extra visit proved popular with the boys, for whom the whole trip was organised to fit in with Year 9's History theme about the changing nature of warfare and to explore the links between World War I and World War II.
"Despite persistent rain and the crowds, the boys thoroughly enjoyed themselves at Versailles and were particularly fascinated by the Hall of Mirrors, where they re-enacted the signing of the Versailles Treaty," she said. The group also took the opportunity to wander in the Palace of Versailles gardens, enjoying the views of the water features and of the palace itself.
The first stop for the 44 boys and staff on the battlefields trip was Ypres, where they saw the reconstructed trenches at Hill 62, which enabled them to analyse the construction of the trench system.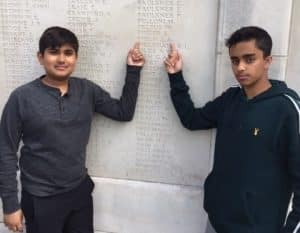 This was followed by a tour of Tyne Cot Commonwealth War Graves Cemetery, where the boys searched out the names of Old Elizabethans who fought and died in the First World War. They included Jack Field, who had been the School Captain and was just 19 when he was killed. In the evening, the pupils watched the daily Menin Gate remembrance ceremony, which was first performed in 1928. Every evening, the busy road through the memorial arch is closed and The Last Post is played.
Towards the end of World War II, on the very evening that Polish forces liberated Ypres, the ceremony was resumed at the Menin Gate, even though bullets were still flying in other parts of the smoke-filled town.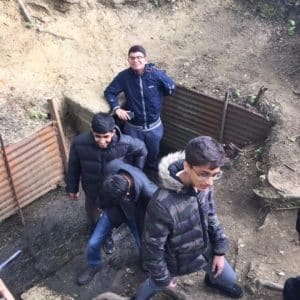 Miss MacGregor said: "The boys were clearly moved by the ceremony and took the time to remember the war dead, including the Sikh regiment who are commemorated there."
Before moving on, the boys took the opportunity to enjoy the scenery and partake of Belgian waffles, and to buy chocolate for presents and for themselves.
The trip was rounded off with a visit to Calais and the World War II sites of La Coupole and the Blockhouse. They walked around the museums there that record the manufacture and firing of the V1 and V2 rockets.
"The museums were excellent, and the boys really felt the evil inside the abandoned Blockhouse, which is still largely as it was left after the Allied bombardment," said Miss MacGregor. "We saw moving and informative documentaries at La Coupole, codenamed Building Project 21, about the suffering inflicted by the Nazis during the building programme; using prisoners of war and compulsory work units from concentration camps."