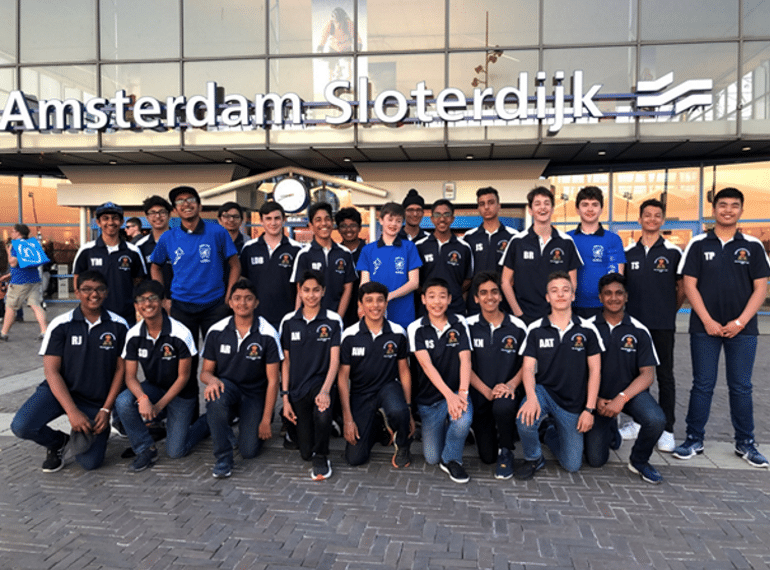 Year 9 boys enjoyed a successful trip to Amsterdam for one of Europe's largest youth rugby tournaments, where they took on club sides from the UK and the Netherlands alike.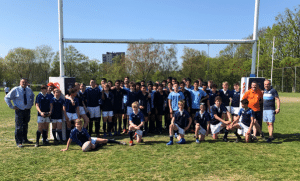 The 24-strong QE squad won three of their four matches in the U14 category of the 20th annual Hilversum International Youth Rugby Festival.
QE's Director of Sport Jonathan Hart said: "It is great to support this ever-growing tournament; the boys played extremely well and should be proud of what they achieved in Amsterdam."
Some 85 teams, with players aged from 7 to 18, played approximately 175 matches during the festival. Hosted by RC Hilversum, it attracts entries from England, South Africa, Wales, Scotland, Northern Ireland and Belgium, as well as the Netherlands. Ten teams competed in the U14 competition in which the QE boys were involved.
The QE contingent's annual tour began this year with a warm-up game against Amstelveense RC, a club from the town of Amstelveen, near Amsterdam, which they won by one try.
"The squad were feeling extremely positive going into the tournament the next day," said Mr Hart. They played group matches again RC't Gooi (a club from the Dutch town of Naarden), Beaconsfield RFC, Basingstoke RFC and RC The Dukes (from the town of 's-Hertogenbosch).
"On a glorious day with blazing sunshine (a stark contrast to the previous year), the boys played extremely well and worked hard to secure their three wins out of four," said Mr Hart.
He praised "notable performances" from Danny Adey, Victor Angelov, Muhammad Nayel Huda and Akhil Walia, but added: "The whole squad should be congratulating themselves for the way they conducted themselves on and off the field; it was a pleasure to take them, as they all created a great tour atmosphere."